Probiotics. Let's talk about it. A few years ago I was having serious gut issues that landed me in the hospital a few times and unfortunately with very few answers from doctors. I struggled with the frustration of feeling totally hopeless and never seeming to make any progress at doctors appointments until I finally decided to take matters into my own hands. Being in the health and wellness field I knew quite a bit about nutrition and supplements but I never felt like I was doing enough. I started seeing a nutritionist who made major changes to the types of foods I was eating while also adding in supplements that I never took consistently to see the benefits. One of those supplements was a probiotic. The first go around of taking these magical pills I found a brand that needed to be refrigerated. While they started making a difference in the way I was feeling, I was taking them before every meal and given my lifestyle it was almost impossible to take them at the right time without having them out of the refrigerator for too long. Ultimately I stopped taking them because I was never home enough or at the right times to be consistent. ENTER HYPERBIOTICS. I was THRILLED to find a brand of probiotics that is shelf stable as well as having certain products tailored specifically for women (if you know me at all you know I love anything that is focused on women specifically because our needs are different than men and hellooooo I have a women only company so it felt like a perfect match hehe).
A word from the founder of Hyperbiotics:
Using patented technology, we are proud to say that we have developed one of the world's most survivable probiotic supplements at an affordable price and we help people feel their best on a daily basis by delivering to them the benefits probiotics have to offer.
What is a probiotic exactly you may ask? Probiotics are live bacteria and yeasts that are good for you, especially your digestive system. We usually think of these as germs that cause diseases. But your body is full of bacteria, both good and bad. Probiotics are often called "good" or "helpful" bacteria because they help keep your gut healthy.
Probiotics along with other supplements have made a huge impact on my gut health and the slow process of healing my stomach issues. The most important part of this journey for me is consistency and simplicity. If it's too challenging to stick to any sort of fitness, health, or wellness routine, chances are we aren't going to stick to it. I keep my probiotics in my bag at all times (hallelujah I don't have to bring a cooler around with me in my car everywhere I go!) and I am able to regulate my digestion and my gut health in a manageable way.
10/10 RECOMMEND.
This past weekend I spent a day at Made With Love Wellness (formerly known as Renew Juicery). At first glance you may think this is your average juice shop, but let me tell you IT IS NOT. It is SO. MUCH. MORE.
First of all, when I am drinking juice I am always concerned with the sugar content. When I start my day with a juice, I want to know that I am fueling my body with good ingredients while also keeping my blood sugar levels stable. Made With Love has the most incredible juices and mylks (I'll get to that later) and I am so impressed by the ingredients and presentation.
Secondly, when you walk in, you immediately feel welcomed. I was there for quite a bit of time and every employee knew their customers, and if they didn't, they got to know them and made sure they left with what they needed. I am all about community and to feel that so strongly in this environment was incredible.
I was surprised to not only see juice but wellness beauty products, supplements, and really everything you could want from a wellness shop. I was in awe of the beauty products (all locally sourced which I LOVE).
My first stop was the cryo chamber (yes they have a cryo chamber!) My first experience with cryo was less than ideal so I was a bit nervous going into it, but Morgan made the experience so fun. I mean you're freezing yourself, so it's important to feel comfortable in the space and with the person who is leading you through it. Just a quick tidbit on cryo. It is extremely helpful for inflammation, muscle soreness, weight loss, and treating pain. 3 minutes in that tank and I was definitely ready to put my clothes back on haha. But I had been extremely sore all week and it was amazing how good I felt not only right after, but especially the next day my body felt AMAZING!
This was the first thing that really drew me into Made With Love. I was so intrigued that they were not only offering amazing juices but offering services that really treat your whole body. They were also doing B12 shots all day which I love!
Next, we talked juice. They Keep. It. Real. Their mission is to "share the power of real food with as many people as possible by putting out products that are truly nutritional, functional, and made with REAL food." Nothing is processed. Everything is pure. And it tastes so. damn. good.
I had the Glow which was incredible and if you're afraid of green juices, this is a great go to for starters! I took home the Heart Happy which I later turned into an amazing salad dressing adding almonds, avocado oil, and a little salt and pepper. I'll be sharing that recipe on instagram so stay tuned!
Lastly, their MYLKS! I went dairy free about 6 months ago and I am very picky about the almond milk that I choose. I also cut out coffee about 6 months ago as well so their Matcha Almond Mylk is like heaven on earth. I drank it cold and then froze the rest of it to make an Matcha Smoothie a few days later. I've never had such an amazing matcha! I also had the Golden Hemp Mylk which I warmed up at night and I gotta say, it put me right to sleep! The last mylk I tried was the mint cacao and it literally tasted like a milkshake! If you are looking for some milk alternatives. This. Is. Your. Place!
Last but not least. The vibe. This may seem silly but the vibe and energy in a place like this is a game changer for me. I felt so welcomed when I walked in and truly felt like I was heard and taken care of. I love that this company was started by an incredible girl boss who is truly sharing her passion with the world. I felt comfortable. I felt like that products I was receiving were exactly what they were marketed as. I felt like I could have hung out there all day!
So if you haven't figured it out yet, I highly recommend Made With Love Wellness. I am constantly on the hunt for the next wellness go to spot, and I have to say this might be my new fave!
Thank you Made With Love for having me and I can't wait to share these recipes (out of juice!) with you!
10/10 Recommend!
So anyone who knows me knows that I am a planner. I used to joke that if I could have planned out the next 10 years of my life day by day I would (but what fun would that be?!) But I do love to plan. Not only my to do lists per day, but plan out where I want to be heading in my life and what I want to accomplish.
Cue: The Launch Planner. It's more than your average planner. It's meant for entrepreneurs! It lays out the 6 stages to launching a business.
1. Idea
2. Business
3. Offerings
4. Brand
5. Website
6. Marketing
This is SO KEY for anyone attempting to start a business. The Planner allows you to dig a little deeper into what you want to create within those 6 subcategories. Not starting a business? Don't know where to start? Start here!
Starting a business was one of the scariest things I've ever done. Honestly, I never even planned on starting a business, it jus kind of happened. I am beyond grateful that this is the path I have chosen and that I've been led to this amazing place, but no matter how many how to books I read, there is ALWAYS more to learn. And I am always looking to learn more about how to create a successful business.
Don't limit your mind to what you already know, there is SO much to learn. I am a newbie at creating my own business and this has been such an amazing tool.
I am a big affirmation girl and each month starts with an empowering affirmation for your entrepreneur self. Not only are you planning out your days, weeks, and months, you are focusing in on your focuses, connections, tools, and resources. At the end of the month you reflect. I am a big journal and so this part has been my favorite. I get to look at where I thrived, where I want to do better, and what I want to change in the upcoming months.
I am only a few months in but the Launch Planner has been an incredible tool for me to really hone in on where I'm going and really what I want to see my business turn into!
ELEVATED WITH ERIKA CLEANSE
So I want to start this review by telling you that this cleanse was created by an absolute angel in my life Erika Budruinas. She is an absolutely incredible human bring who brings light everywhere she goes, therefore when I was told that she created a cleanse, I knew that I needed to try it. Usually the word cleanse freaks me out as I'm not an advocate for juice cleanses, but this cleanse is full of amazing food (literally eat as much as you want) and incredible recipes she created herself.
I have been dealing with stomach issues for the last 8 months. I have been in and out of a lot of pain, severe reactions to certain foods (or randomly to nothing at all) and no doctor seemed to have an answer. A few months ago I was advised by my amazing nutritionist to eliminate gluten and dairy. I was willing and completely desperate to do anything so I accepted and started to see some shifts in my gut health. Deep down I had always known that I could heal my body through food, but I took the extra precautions with seeing doctors to make sure.
Cue the Elevated Cleanse. I had been wanting to do this for months since she had announced the launch of the cleanse, yet for some reason the timing wasn't right. I was about to be traveling, I had too many outings, my stomach was not in the place to do it, and so on and so on. I started talking to Erika about bringing her cleanse and her nutrition skills to my RECHARGE :: RETREAT and we decided it was time for me to try the cleanse! Little did I know the timing would be absolutely perfect and it would be exactly what I needed for those 10 days.
My gut health was finally in a place where I could try this cleanse and I was so excited about it.
So here is the general idea of the cleanse.
No diary, no gluten, no caffeine, no sugar, no meat, no fish, no eggs, no alcohol, and no processed foods.
This may initially seem a little scary (in my case I had been off of gluten and dairy for a bit so I was less overwhelmed by the list but I can see if its intimidating) What i can say, is that everything is so perfectly laid out for you in her book that it made it SO much easier.
There are recipes, self care guidelines, and a self care kit that comes with the 10 day cleanse. So I started!
I have to say outside of the recipes, I was most excited about the self care element. Because the Universe had my back 1000%, I needed self care at this time more than ever before. I needed to be taking care of myself in a different and more conscious and effective way. I did yoga everyday, I took a trip to an infrared sauna, I used a salt scrub, tongue scraper, saged my house multiple times, and finished every day with a meditation with my feet up the wall. It fully allowed me to honor the commitment that I had made to do this cleanse, not only for my body but for my soul.
Initially I felt hungry, but I also workout 2-3 times a day so this isn't a huge shock for me. Erika checked in on me every other day with encouragement and recipe ideas and helped me check out the menu before I went out to eat. I started my day with soothing tonics, ate incredible plant based meals, and ended my day with a decaf yogi tea (namaste).
My body felt incredible. I felt energized, excited, and so connected to the fact that my body was being fueled in a way that felt good. My stomach hadn't had any bit of pain and my heart and soul were healing and feeling fed.
I was nervous going into it but I can't even describe how incredible it was to have this experience. I felt supported and also empowered that I had made this decision to take care of myself with intention. I was able to look at my food story, which has been tumultuous, and create a new one. I LOVED how I felt on this cleanse and didn't realize how much I depend on sugar (it's literally in EVERYTHING). I was able to really dig deep into my spiritual practice and feel free throughout the 10 days. Although I was excited to finish the cleanse and start reintroducing certain foods back into my meal plans, this cleanse was exactly what I needed.
It fed my body in a way that it needed, it fed my soul, and it helped me clear my space. Oh yeah, she also suggests to clean one area of your house that you have been wanting to for a while, so therefore I did my whole house, car, and closets (SEE YA CLUTTER).
I am grateful to know the incredible human that created this cleanse and I am looking forward to doing it again. When my body needs a reset. When it needs a little extra love. And when I feel my soul needs a little refill. It's not just the body. It's mind, body, and soul. It's all connected. That's why this cleanse was so perfect. It implemented all of these elements that are imperative for health and more importantly for growth.
DERMA E CHARCOAL SKINCARE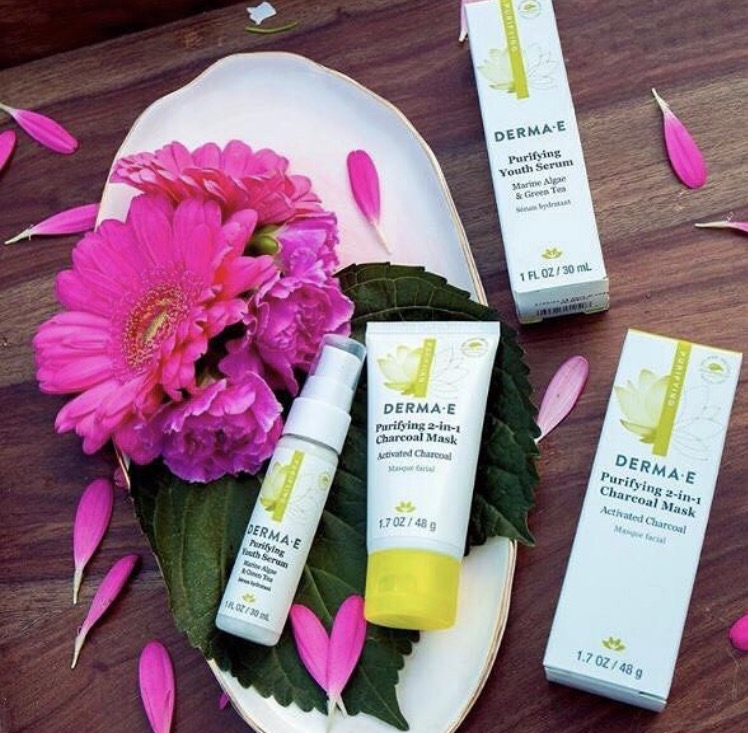 I am all abut ALL things charcoal (if my blog hasn't already clued you in on that). When I received my Derma E November box I was SO excited to see ALL CHARCOAL products! Here's why I love charcoal products (and Derma E) so much::
It visibly makes your pores smaller and cleaner
It cleans your skin on a deeper level and has detoxifying qualities
It treats acne and blackheads
You feel freaking amazing after you use these products
I drink activated charcoal, so why not put it on my skin?? This is a product that I truly trust and I have seen work wonders on my skin. Because I am sweating all the time (for work of course) I have been making an effort to take care of my skin the way that it deserves. It's one of the only products that makes my skin FEEL extremely clean. I used the Derma E Charcoal Mask and the Charcoal Cleanser and my skin felt incredible. I could actually feel the mask working while it was on my face and that is a true testament to the activated charcoal. If you haven't tried these products yet, GO NOW!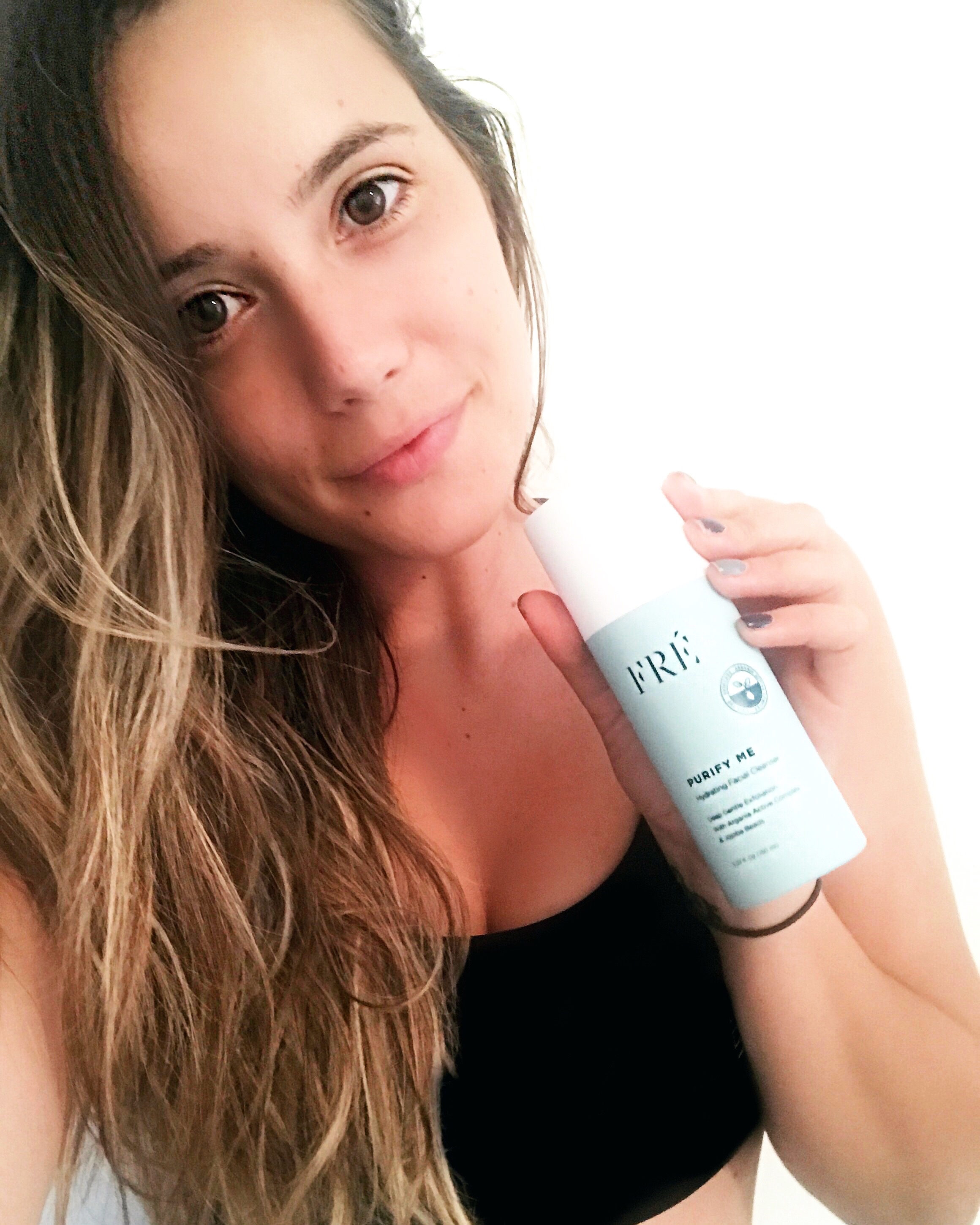 ntroducing...FRE SKINCARE! I am beyond excited to be an ambassador for this company! Before I start reviewing the 123Fre set, I'll give you a little background on my skin. I have always have relatively clear skin. I have been very lucky to have never dealt with acne and only the occasional blemish, but I never took care of my skin either. I would throw some water on my face after a workout, but that was honestly the extent of my skincare (not proud). A lot of it was laziness, but I also believe that I hadn't found a product that I really enjoyed using. As a professional sweat-er I focus so much on how my body moves and what I fuel my body with, yet I was neglecting the care that my skin deserved. I started using Fre and I was immediately obsessed. It is so gentle on my skin and it smells SO GOOD. I look forward to washing my face after a workout and the moisturizers have legitimately made my skin glow. I am obsessed with this brand and it has transformed the way I feel about my skincare routine. If you haven't used it yet, GET ON IT! Your skin will thank you later :)
INTERVIEW W/ LANCE from the happy project
What inspired you to start the Happy Project?
Originally I started The Happy Project because I wasn't in a happy
place in my life at the time. I was going through the motions at work
and wasn't taking advantage of every day. So I decided to write a list
of everything that made me happy, and do one of those things on the
list each day. I would write about the experience and my feelings
related to it. After a few weeks I felt happier and generally more
grateful for everything in my life. So that's the very early
beginnings of The Happy Project. Over time it has evolved, but at it's
core is


How was the transition from 9-5 job to being an entrepreneur?
The transition to being an entrepreneur has been extremely tough but
at the same time, invigorating and enjoyable. The hardest part is
having enough funds to bring my ideas to life. I enjoy solving
problems with very little money and I am doing what I love... which is
creating beautiful and impactful designs that inspire people. I
definitely do not miss the grind and I love the freedom of being an
entrepreneur. But I do miss the social aspect and being able to
interact with co-workers on a daily basis. Being an entrepreneur can
be lonely at times...but also incredibly rewarding.


What do you hope people receive from the Happy Project subscription?
Ultimately I just hope people receive something positive from the The
Happy Project Box...Whether that's a little bit of happiness, a smile,
a reminder to do what makes them happy, motivation to be a better
person...I want them to have a unique and memorable experience and
know that everything in that box has been thoughtfully constructed
from the heart.
What is your favorite quote that you live by?
It's really tough for me to pick just one. There are so many that
resonate with me and help me stay grateful and positive. One of my
favorite quotes that has recently helped push me and gives me hope is
a quote by Misty Copeland. "You can start late, look different, be
uncertain and still succeed." I've started really late, I am doing
something different and there is always uncertainty...but I know that
through time, effort and passion...I will succeed.



What is your go to when you're feeling unmotivated or having an off day?
Getting out in nature, off the grid and exploring something new always
helps clear my mind. Also just catching up with an old friend and
sharing some laughs helps keep me grounded. And sometimes I'll seek
out an inspirational video or story or I'll take a trip to The Last
Bookstore and grab a new book.
I love experiencing urban art or an exhibit at a museum and I'm super
grateful to live fairly close to an amazing beach which always lifts
my spirits.


What is your goal for the next year for The Happy Project?
My short term goal is to be an established brand, well known for
quality inspirational products. I would love to be able to publish
more books and create new products that spread positivity throughout
the world. My long term goal is to start a foundation that brings
happiness and light to those who need it most (much like the Make A
Wish Foundation).


WHITE AND ELM CHARCOAL DEEP PORE MASK REVIEW
In the last few months I have become OBSESSED with masks. Skincare in general really, but masks are definitely my favorite. It not only is good for my skin but it allows me time to set aside for myself for some good ol self care. I struggle to set aside that time for myself regularly, but when I have a mask it gives me at least 15 minutes where I am taking care of myself and focusing on something other than work or everyday life.
This mask specifically is something special. I was surprised when I opened the jar to find a powder rather than a thick mask. I followed the instructions and mixed the charcoal powder with water and created the mask! It went on my skin really easily and tightened up pretty quickly. (I love that feeling because you really know it's working). I washed it off after about 10/15 minutes and followed up with the hydration cream. My face felt SO smooth and clean. I truly felt that my pores were fully cleaned and I was working with a fresh slate. A few days later my skin still feels great and I"m excited to do it again!
HOTBOX SAUNA
HotBox Sauna Studio. I am SO excited to be writing this review. If you are skeptical, I have to tell you, in the beginning I was too. I didn't fully know what to expect and my nerves were high as I walked into the studio.
It's going to be too hot.
I'm going to overheat and pass out.
What are the real benefits of doing this?
These thoughts were racing through my head when I walked into HotBox last week. Although skeptical, I was also very excited knowing the benefits that I had heard, and I am ALWAYS up to try the newest health and wellness craze.
So first of all, I want to cover the benefits:
Infrared saunas are AMAZING for your health. They heat your body from the inside out, therefore you are unlikely to overheat, and you will experience a more productive sweat. You can burn up to 600 calories in a 1 hour session. YOU FEEL AMAZING AFTERWARDS.
Ok so back to my experience. I walked in to a beautiful white studio space. I was asked to pick an energy based on light colors to set the tone for my sweat. I chose balance (because let's be real who doesn't need a little more balance in their life??) I walked into the room where there was a shower and personal sauna. Not only was there music playing, but there was an option to put on whatever music I wanted OR watch netflix. For those of you who are nervous about sitting in a sauna for an hour, you can binge watch your favorite netflix show in there and it'll be over before you know it.
I started my sweat finishing some work emails (free wifi ayyyy) and then allowed myself to meditate, read, and just relax. The hour was done incredibly fast. I felt invigorated, sweaty, and maybe it was just me but I legitimately felt the toxins leaving my body. The sweat was surreal. Not only was it truly an act of self care to put myself in a hot room for an hour to recharge, but it was a chance for me to do something different for my body. After the hour I showered and left feeling incredible. I am not sure if my words can fully express how amazing I felt at the end of the sweat, but I knew that I needed to come back ASAP.
Self care is something we so desperately search for these days, and this was an amazing and innovative way for me to implement it into my routine. Also, I burned 500 calories while sitting on my butt, not sure I can do that anywhere else.
I HIGHLY RECOMMEND you try this place. I will be back. Again and again and again. Treat yo self and check it out.